First Steps Towards Launching Your New Website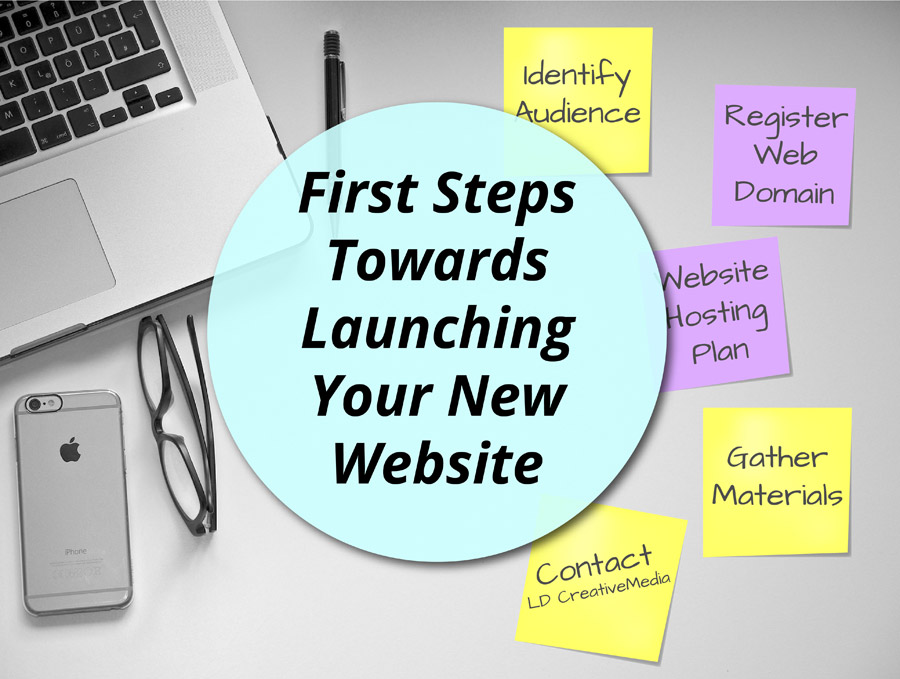 You have decided that you need a website. Congratulations, you have made a wise decision! A website is a valuable tool for spreading the word about your business or organization.
Did you know Google processes over 3.5 billion searches per day worldwide? That comes to about 1.2 trillion per year! Source: Internet Live Stats
So, now what? Where do you start?  Launching your new website is going to take some thought and preparation. Of course, since I am writing this post from the mindset of a website designer, I will go ahead and suggest that you contact LD CreativeMedia now and I will help you along the way. If you are not quite ready for that step, there is some prep work you can do on your own.
Identify Your Audience
Give a little thought to your audience.
What will people be looking for when they need to find your business or organization?
Will you need to reach a specific age group? Gender?
Think of a few keywords or descriptors for your business. Go beyond your business name for these.
Do you own a store? What do you sell?
Where are you located?
Keep your answers to these questions nearby. You will refer to them a lot as you continue to develop plans for your website content.
Register Your Web Domain
The web domain is your address on the internet. You register your website domain with a registrar on an annual basis. You might think of the web domain as real estate on the web and you rent the space from a network registrar. Be sure to read the section on Website Hosting before you act on registering your domain. 
How to Choose a Website Domain
You want to have a website domain that is easy to share with others. Avoid numbers and hyphens whenever possible. Shorter domains are better. If you are running a business, try to get the .com for your chosen name, it is still the most recognizable extension.
Consider including an appropriate keyword or location in your web domain.
Search for available website domain names.
Avoid domains names that already exist with other extensions.
What will Website Domain Registration cost?
Typically a website domain can be registered for $15 per year or less.
Note: Sometimes you can get a special with your website hosting company if you are registering the domain for the first time. It is worth checking this out with your hosting plan before committing. You will also save the step of redirecting your domain to the appropriate servers for your host.
Choosing a Host for Your Website
A web hosting company will host the contents of your website on their servers, keeping your website accessible to the public at all times. You choose a plan with the web host of your choice and pay monthly or annually.
How much does a Web Hosting Plan cost?
There are usually multiple plan options available with each hosting company. For about $100 to $150 per year, you can generally get a good plan that has plenty of bandwidth for a small business website, along with great options for hosting a WordPress or other form of content management website. Need email addresses? Most hosting plans include access to plenty of email accounts for your employees or co-workers.
Many hosting providers offer discounts for longer plan agreements. Be cautious about signing up for an extended plan until you know you like that particular hosting company. While you may be OK committing to a year to see how things go, 3 years or more may be over committing.
Gather Materials for Your Website
Now, when you have the web domain and the hosting account, you are going to need content for your website. It is time to gather the information you want to provide for your audience.
Do you have a business logo? You will need a good quality jpg or png of this image for your website.
What is your business or organization story? This is great information to share on an About section or page.
Do you have products for sale that you want to highlight?
Consider the look of your website. Beyond your logo, are there colors or other images that represent you and your business or organization?
Whether you are working with a website developer or planning to design your own web presence. Being prepared with these preliminary steps can get you started off on the right foot towards launching your new website for yourself, your business or your organization.