6 Keys to Choosing a Website Domain Name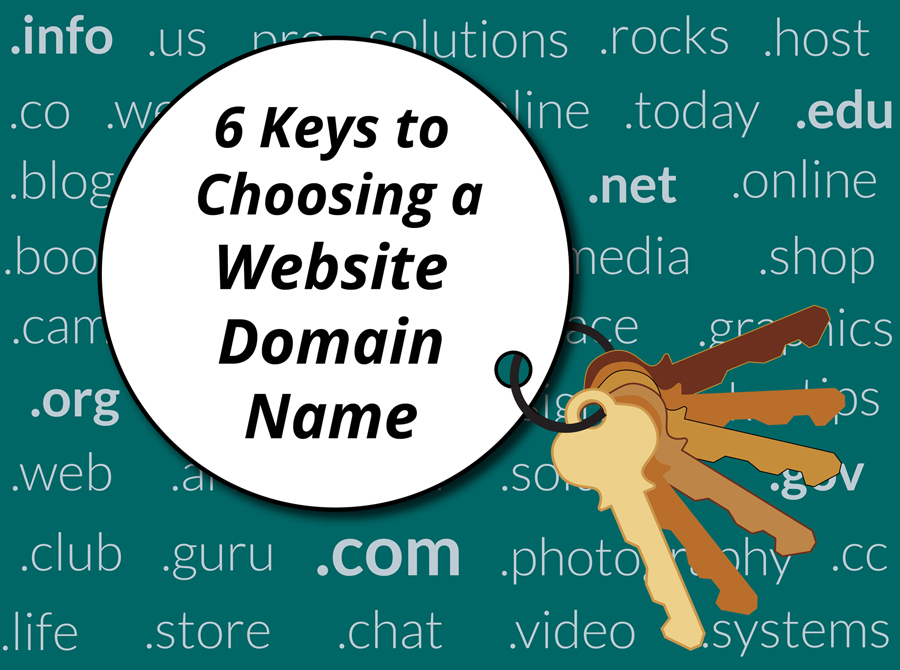 Are you ready to get your business on-line with a new website? Do you have questions about how to get started? Choosing the right website domain name is a great first step!
The six tips below can save you a lot of stress and struggle along the way. You might consider them to be keys to unlocking the doors between you and success with your new website domain name
.
1. Get the Dot Com
While there are now many options for website domain extensions, the dot come (.com) version is still the most widely used and recognized by potential customers. If you are sharing your new domain name with others, they are most likely already going have .com in the back of their mind and are listening more for the keywords before that extension. You do not want to lose potential business by having a lesser known domain name extension.
You can search for available domain names with online tools at registrar websites like Whois.com and GoDaddy.com. Many other web hosting companies offer the ability to search for a domain as you sign up for their services. I recommend you spend a little time on this search process before committing to your web hosting plan.
If your search leads you to find that the dot com of your desired domain name is taken, continue experimenting with alternate names. Don't settle! The odds of you losing business to that existing  dot com domain are too high to take the chance.
When you get the dot com extension of your domain name and you might want to consider getting some other variations of the same domain. As long as you are able to get the desired dot com, it does not hurt to get other extensions and point them to your dot com domain name. This can help limit competition for similar domain name confusion.
2. Make it Easy to Say and Type
You will be sharing your domain name with your friends and family, with the hope that they will in turn share it with others. Keep the domain name as simple to say and spell as possible.
There's a childhood game that comes to mind here. Do you remember whispering a phrase to one person and seeing how it has changed after being whispered from one person to another through a whole class of students? In the game, there is almost always some change in what is shared. You want to try to prevent that with your domain name.
3. Use Keywords within Your Website Domain Name
Incorporating keywords in your domain name can help build increased website traffic. Effectively using keywords in your domain name and within your website in general increases the likelihood that your website will be found by the right people.
Consider what words or phrases potential customers or clients might enter into a search engine, like Google, to search for the services or products you can provide. Where are your potential clients or customers located?
Examples of website domain name keywords include your location, your services and products you may sell.
4. Avoid Hyphens, Numbers and Special Characters
Adding special characters to your website domain name can add unnecessary confusion. When you share your domain name it is easier to simply say the words and not explain that there is a hyphen here or there. Simple is good.
When looking for an available website domain name, avoid adding numbers to make it unique. If the numbers seem random, your potential customers will likely forget them and end up visiting your competition's website instead.
If numbers are part of your business name and you want to include them, consider spelling out the number in letters.
Other special characters fall into the rule of not needed and hard to remember. Spaces are not usable in a web domain name.
Your best rule of thumb is to limit your domain name to letters only.
5. Keep it Short
Yes, so now that I have mentioned using keywords in your domain name and spelling out numbers and such, I am now going to tell you to keep your website domain name short. I know, I know. How do you keep it short if you are spelling out everything and using keywords? It is all a balancing act. Find the right combination that works for you.
Remember you want your domain name to be easy to remember and easy to type. Keep it as short as you can while making a mental impact.
There is no hard and fast rule for how many characters is too many for a domain name but a good goal is to limit your domain name to around 15 characters or less.
6. Avoid Copyright Problems
As you narrow your search for your website domain name stay on the lookout for copyright issues. You want to avoid issues with getting into someone else's copyrighted materials. Do not purposely obtain a web domain that is overly similar to your competition.
You might want to investigate copyright conflicts with your chosen domain name options before committing.
One resource you might want to check out is the US Patent and Trademark Office. Here you can search for existing trademarks that may prove to conflict with your own business branding ideas, or you can file your own new trademarks.
Keep these 6 keys in mind as you research possible domain names for your website and you will on your way to success!