Choosing a Web Host for Your Website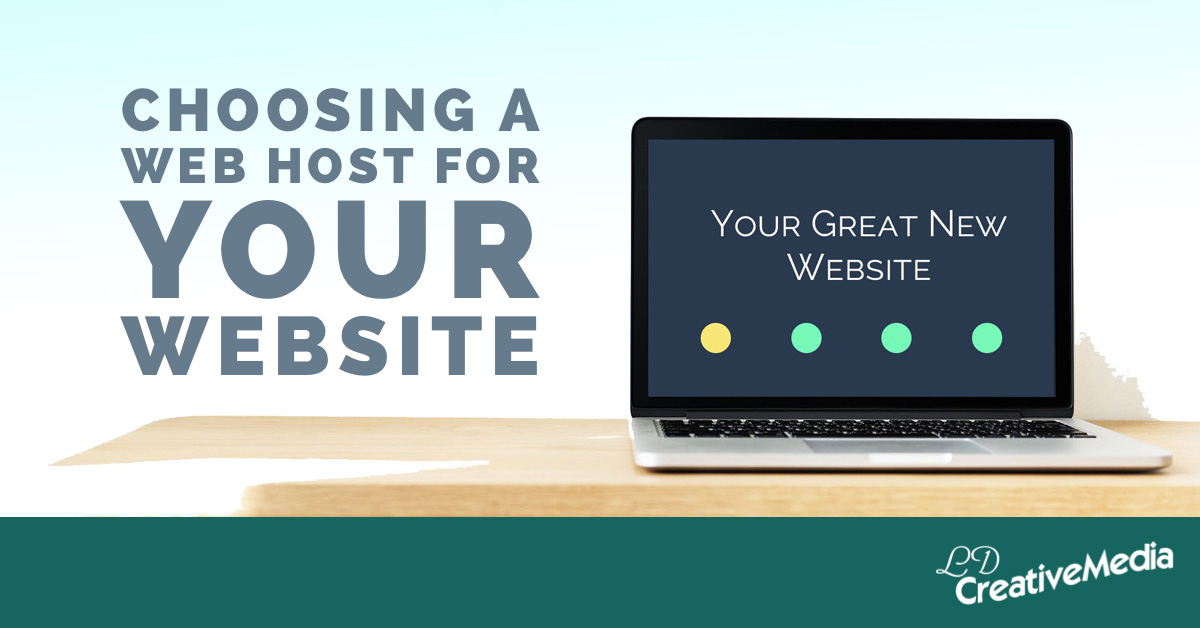 You have decided you need a website. Great!  Now it is time to tackle the big decisions of just how you go about getting a website and how you make it available to the world. Web Hosting covers the how to make your website available piece of that puzzle.
What is a Web Host and Why do I Need One?
A web host provides space for your website to "live" and be accessible to the world. The files for your website are loaded onto a web server, a computer system used specifically for storing, processing and making websites available. 
The web server should be always on, or at least nearly always on. This is a feature that may be boasted in hosting plans you may see and consider signing up for. Usually listed as "Uptime," many web hosts will boast a 99% uptime or better. Meaning your website should be available to the world for viewing in a web browser 99% of the time or more.
Can I Host My Website on my Own Computer?
It is possible to host a website on your own personal computer, but I would advise against this for the casual user. This would require changing settings on your computer that could expose you to various security risks. 
The fees for a basic web hosting package are generally minimal compared to the risks you would face trying to host your website on your own. 
What Should I Look for in a Web Host?
Support when You Need it
Of course, you are not going in looking for trouble, but it is better to know you have help when trouble finds you. Web Hosting companies have various levels of support. Check to be sure your preferred mode of communication is available. Are you a phone person or do you prefer live chat support? Are the support techs available 24 hours a day? When you choosing a web host, be sure they can provide appropriate support if you have a problem.
Will the Hosting Plan include the Features You Need?
Before signing up with a web host, put a little thought into the structure and design of your website. What features will you need? Here are just a few to look for:
Content Management   
Will you be using a content management system like WordPress, Joomla, or Drupal? Check out your potential web hosting company's list of features to be sure your CMS of choice is supported.
Your content management system will need access to one or more databases. Check the limits on MySQL databases associated with your potential hosting plans.
Email associated with your domain. This is a fairly basic feature of most web hosting plans. Be sure that any plan you sign up for includes the option to setup email for you and any team members you have.
SSL Certificates
SSL encrypts private data from credit cards and such. If you will be selling anything directly from your website, you will need an SSL Certificate. Check to see if this is something that is included in the hosting plan you are considering or if it is an easy add-on.
Even if you are not directly selling products from your website, it may be worth obtaining an SSL Certificate. Most web browsers now indicate whether a website has SSL in place or not. For example, Google Chrome displays "Secure" or "Not Secure" in the web address bar. Would seeing "Not Secure" in the browser might influence your website visitors? It is definitely worth consideration.
Backups
Going into a hosting plan you are placing trust in your web host. You will want to know that your files are safe and backed up on a regular basis.  Look into how often your files are backed up and if you can get access to those backups if catastrophe strikes. 
Room to Grow
When you first venture into the realm of having a new website, you may be just getting your feet wet so to speak. Months or even just weeks from now you may find that you need more than you first thought. Look for a web host that offers plans with room to grow beyond your current expectations.
Will one web domain name always fit your needs? Many web hosting plans offer the ability to host multiple website domains within the same account. If this is something you may need in the future, be sure not to lock yourself into a plan that allows only one domain.
Get Recommendations before taking the Leap
As you look into web hosting it may be worthwhile to ask around for recommendations. Friends and colleagues are great resources. If you are working with a web developer, ask what web hosting options they prefer or have experience with. 
LD CreativeMedia has had great experiences with several web hosting service companies, including GoDaddy, ImHosted and HostGator. In fact, we are part of the Affiliate program with HostGator. If you are looking into these or other hosting companies and plans and would like to talk it over, please reach out to LD CreativeMedia and we can help find a web host that will fit your needs.