Website Design Update for Triangle Pharmacy Ace Hardware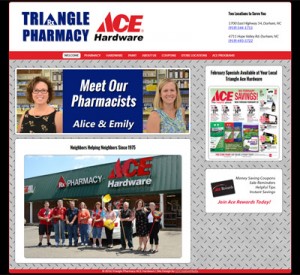 In 2013, LD CreativeMedia partnered with Triangle Pharmacy Ace Hardware to develop an online presence for the store. Since that time LD CreativeMedia has been happy to provide seasonal website maintenance and updates to the website content. By late 2015 the time had come for a new look, an updated website design for trianglepharmacyacehardware.com!
This refreshed website is a responsive design, friendly and easy to use for our mobile visitors. It continues to use WordPress as a content management system. Some animations used in the past were replaced with more direct, faster loading images and text.
The new website design highlights the local connection to the corporate Ace Hardware website, linking to monthly specials and services offered through Ace. Pharmacy features are also still front and center, with information on vaccine programs and other health information.
Take a moment to visit Triangle Pharmacy Ace Hardware's website and if you are a Durham local, stop by the store and visit your neighbors!