Currently browsing - Web Design
Thu, Nov 16 2017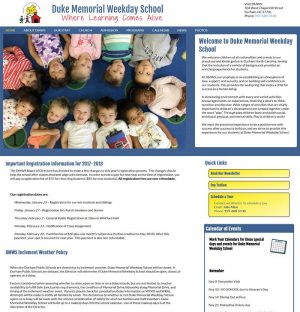 Duke Memorial Weekday School Website Redesign
LD CreativeMedia has maintained the Duke Memorial Weekday School website since 2009. During that time the website has gone through a few minor layout transitions and a conversion to WordPress. In late 2016 we began a major website redesign.
With this redesign, we highlight more of the school's personality with photos of students and staff featured on the home page with our welcome message. Quick links to school news and contact information as well as the latest calendar and event information are prominent as well.
Thu, Nov 16 2017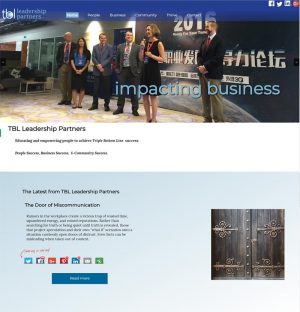 Website Redesign for TBL Leadership Partners
LD CreativeMedia has provided ongoing website maintenance for TBL Leadership Partners since first teaming up to launch their tblleaders.com website in 2009. The website has gone through a few subtle layout changes over the years since . In early 2017 we launched a major redesign for the website.
The new layout for this website redesign features a responsive design that is welcoming to visitors on both large desktops screens and mobile devices. Bold straight-forward website navigation helps visitors find content they are seeking quickly and with ease. Website readers enjoy the latest blog posts and features directly from the welcome page.
Thu, Nov 16 2017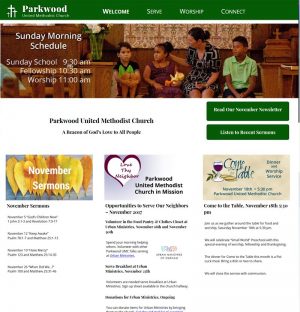 Re-branding and Website Redesign for Parkwood United Methodist Church
In 2016, LD CreativeMedia began working with Parkwood United Methodist Church on a re-branding project to bring a stronger cohesiveness across publications and platforms. This branding would carry through from printed publications to the website and would be consistent on social media platforms and elsewhere.
When visiting, parkwoodumc.org, readers can easily find the latest information on services and programs at Parkwood United Methodist Church and connect to the church's profiles on social platforms. Monthly newsletters and audio recording of recent sermons are also featured on the church website.
Sun, Oct 16 2016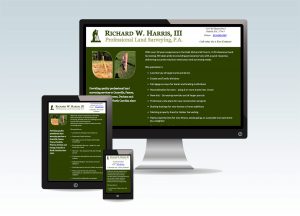 Starter Web Presence for Richard W. Harris, III Professional Land Surveying, P.A.
LD CreativeMedia was honored to work on an initial web presence for Richard W. Harris, III Professional Land Surveying, P.A. This one page, responsive website design serves as an introduction to the company located in Oxford, North Carolina and highlights services provided.
Richard W. Harris, III Professional Land Surveying, P.A. has served Granville, Person, Vance, Franklin, Warren, Durham and Orange Counties in North Carolina since 2002. Before having this website, they were not easily found in search engines such as Google, Bing and others. The new web presence along with a Google Business listing has helped with customers connect with this business.
Thu, Feb 18 2016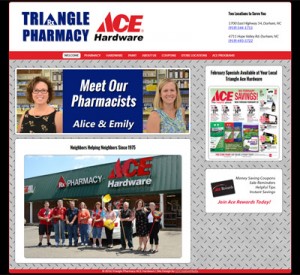 Website Design Update for Triangle Pharmacy Ace Hardware
LD CreativeMedia has been happy to provide seasonal website maintenance and updates to the website content since partnering with Triangle Pharmacy Ace Hardware in 2013 when we first developed a website for them. By late 2015 the time had come for an updated website design.
This refreshed website is a responsive design, friendly and easy to use for our mobile visitors. It continues to use WordPress as a content management system. Some animations used in the past were replaced with more direct, faster loading images and text.
Wed, Sep 30 2015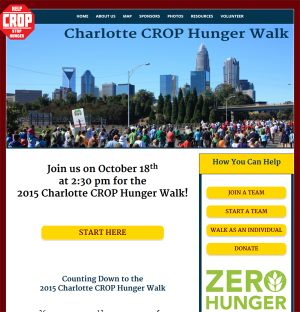 Responsive Website for Charlotte CROP Hunger Walk
The Charlotte CROP Hunger Walk takes place each Fall as a part of a nationwide effort to end hunger and poverty in this country and beyond. Since the first Charlotte CROP Hunger Walk in 1978, this annual event has raised almost $8 million in the fight against hunger, with nearly $2 million staying in the local Charlotte community.
As they started preparing for the 2015 walk on October 18th, the Charlotte CROP Hunger Walk was in need of a new website. LD CreativeMedia developed a mobile friendly, responsive website using WordPress as a content management system.
Mon, May 18 2015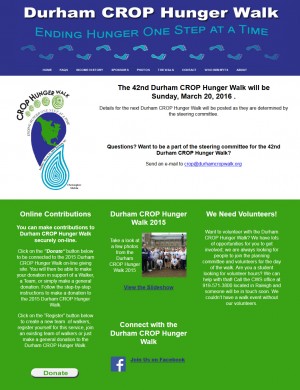 Responsive Website Launched for Durham CROP Hunger Walk
LD CreativeMedia was honored to be able to help the Durham CROP Hunger Walk bring their website up to date with a mobile friendly, responsive website design that now uses WordPress as a content management system. With these updates, the Durham CROP Hunger Walk website, www.durhamcropwalk.org, was ready for what some have referred to as Mobilegeddon, the change in Google's ranking algorithm which gives a better rank to websites that display well on smartphones and other mobile devices.
Is your website optimized for mobile users?
Thu, Aug 1 2013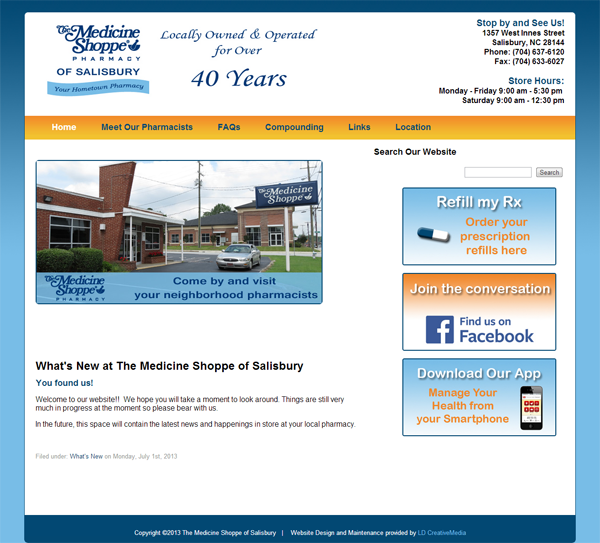 The Medicine Shoppe of Salisbury
LD CreativeMedia is proud to launch a new website for The Medicine Shoppe of Salisbury.
This website highlights the services of this "hometown" pharmacy that has served the Salisbury community for over 40 years.
Mon, Jan 2 2012
New Website Launched for Asbury UMC
A new website for Asbury United Methodist Church in Durham North Carolina, was launched on December 9, 2011. The new design makes use of great features available through WordPress, while still maintaining a familiar structure for returning visitors. Take a moment to visit the site and let us know what you think, www.asburyunitedmethodist.com
Tue, May 3 2011
Road Work Ahead — Temporary Detours Likely
For the last couple of months, one of the main streets through my Durham neighborhood has been under construction. Small segments of road have been closed to traffic while workers remove decades old asphalt and deteriorating curbing to replace it with a fresh, "new and improved" road surface and better curbing to match. LDCreativeMedia.com is
Read More